2015 Offseason Recommendations
for the St. Louis Cardinals
Were the St. Louis Cardinals to ask me for suggestions about what certain players should work on during the off-season, these would be my recommendations.[1]
Matt Adams
The more I look at Matt Adams' upper body, the more I like it. I see the same consistency -- the same ability to get to a good position at contact -- that I saw in Albert Pujols.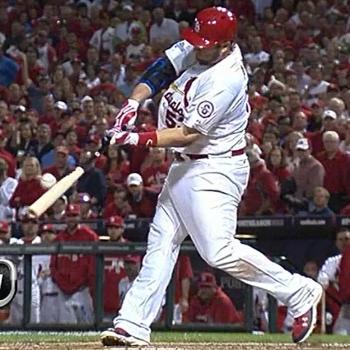 However, unlike Albert Pujols, Matt Adams has two holes in his swing, up and down.
As I discuss below with respect to a number of other Cardinals hitters, I'd attribute the smaller hole up in the zone to Matt Adams' tendency to keep his front elbow down and his barrel up, presumably in an attempt to keep him short to the ball. However, I have debunked the logic behind this idea in a number of pieces, including...
There are two other major differences between the swings of Matt Adams and Albert Pujols, both of which fall under the same heading.
Adjustability.
First, if you compare the posture and stances of Matt Adams and Albert Pujols, you will find that they are significantly different. While Adams is upright, Pujols is much lower. Among other things, that shrinks the relative size of the strike zone, reduces the magnitude of the adjustment that Pujols needs to make to cover the entire strike zone, and allows Pujols to hit more pitches in an optimal body alignment.
You can see this difference at work in Matt Adams' greater tendency to have to drop his hands to hit pitches down in the strike zone. You can also see suggestions of this problem in Adams' inconsistency on pitches away.
Second, if you compare the strides of Matt Adams and Albert Pujols, you will also notice a difference. Whereas Albert Pujols has -- or, more accurately given Albert Pujols' changes to his stride over the past few years, had -- a mechanism for making what I call a Z-Axis or timing adjustment, Matt Adams has no such adjustment mechanism.
The clip above shows Matt Adams hitting a walk-off home run on 2014.07.07. The critical thing to notice is that Matt Adams has to slow down the start of his swing in order to adjust to his pitch. While that worked in this case, it's not how the best hitters typically adjust to off-speed pitches.
Peter Bourjos' problems come down to that fact that he's doing what he's told -- keeping the barrel above the ball and trying to stay on top of the ball -- and it's simply not working.
It's no mystery what Bourjos has been taught, given that you can find recent discussions about what he's trying to do at Sports On Earth...
So Bourjos dedicated himself to becoming the kind of player the Angels couldn't keep out of the lineup, revamping his swing and hitting the ball on the ground more.

"Last year, coming into 2013, I worked a lot off the tee," Bourjos told me in the Cardinals' clubhouse last week. "Really concentrated, had an emphasis on staying low, going hard up the middle. Line drives, and hard ground balls, and trying to keep the ball out of the air. I made an effort to do that.

"I set up the tee, and I had a high tee, and set up a pitch almost out of the strike zone. And I focused on hitting line drives with that, sitting on top of the baseball. And then I lowered the tee and hit the low pitch, tried to hit a low pitch through the infield. And I'd move the tee around, try a different approach, low and hard through the baseball."
...and in numerous other pieces over the years...
"(W)orking with Angels hitting coach Mickey Hatcher -- the bullseye for so many Angels' fans ire these days -- Bourjos pinpointed a flaw in his swing a couple of weeks ago. An uppercut had wormed its way into his swing plane and that's the last thing a player with his speed wants." ESPN

"Bourjos said, 'When you have an upper cut, it makes your bat go in and out of the [hitting] zone too quick.' And the last thing a player with Bourjos' blazing speed wants to do is hit a bunch of fly balls." L.A. Times

"Angels hitting coach Mickey Hatcher suggested the adjustments to Bourjos and worked with him to integrate them. The idea was to eliminate an uppercut that had developed in Bourjos' swing, keep his bat in the hitting zone longer and give him the confidence that he didn't have to rush to catch up to major league pitching." PE.com
The problem is that the short to the ball concepts that Peter Bourjos has clearly been inundated with are at best of limited value and, more often than not, will tend to take a hitter farther away from the high-level swing, and not closer to it.
You can see continuing evidence of this thinking in Peter Bourjos' front elbow down, barel up set-up at the plate, a set-up which is reminiscent of the low front elbow set-up that created so many problems for David Freese (and which Freese has moved away from of late).
As I explain in numerous pieces...
...these ideas, while seemingly logical, do not tend to produce the swing that you see in the best -- or generally even replacement level -- major league hitters.
Peter Bourjos' swing is pretty much as short and direct as it possible for a swing to be. However, I would argue that Bourjos' results point out the problem with the idea of making the swing as short as possible. By focusing on making the swing as short and direct as possible, you will eliminate any and all loading movements. Those loading movements are necessary to hit the ball hard enough to get the ball though major league defenses.
If I were to talk to Peter Bourjos, I'd tell him to focus on squaring up and driving the ball into the gaps and the corners and using his speed to create doubles and triples. That is the advice that I gave Andres Torres and it largely worked (until he started trying to hit home runs in 2011).
Matt Carpenter
I fell in love with Matt Carpenter's swing on the day in 2010 that I first saw him hit.
I would love to see Matt Carpenter moved down in the order to a position where he could swing the bat more and not be so focused on taking pitches. He's a hitter and he should be hitting. I'd rather that a guy like Jon Jay or Peter Bourjos (once he's fixed) lead off.
The only element of concern that I see in Matt Carpenter's swing is his adherence to the low front elbow cue. While it generally doesn't seem to affect Carpenter significantly -- his front elbow tends to come up off of his chest and the barrel loops under the ball as it must -- it does appear to create occasional problems with balls up and away.
Daniel Descalso
I have seen Daniel Descalso put good swings on pitches that are down the middle or up. However, he seems to struggle with the rest of the strike zone. I think part of the problem is some significant arm bar, which can reduce his adjustability. I also see a tendency to not adjust correctly to balls down in the strike zone.
Jaime Garcia
A pitcher's timing is critical to their long-term health. While most pitchers run into problems with their arms being late, Jaime Garcia fals into that small group of pitchers whose are too early; their arms get up too soon, creating a pause in their arm action and thus a weak link in the kinetic chain.
As I pointed out in 2008, this causes Jaime Garcia's arm to drag, which is the likely cause of his elbow and shoulder problems.
The good thing about Jaime Garcia's pitching mechanics is that it is much easier to fix a problem with being early than a problem with being late. However, if this timing problem isn't fixed, then Garcia isn't going to be handle much more than a long reliever's workload.
Randal Grichuk
I generally like Randal Grichuk's swing. His lower body moves exceptionally well. I also saw some very nice swings and positions at the point of contact on his home runs during the playoffs.
The biggest thing that I have seen on some occasions, and that I am keeping an eye on is, as with Kolten Wong and Daniel Descalso, a tendency to bar out his front arm. That can be a problem because it can limit a hitter's adjustability. As in the case of the late Oscar Taveras, that can also suggest a tendency to get pull-crazy; to try to pull pitches that should instead be hit where they are pitched.
Grichuk has also shown some problems with breaking balls. However, I see pretty everything that he needs to do in his lower half. He just has to improve his pitch recognition and discipline and tweak his stride to improve his Z-Axis adjustability.
Matt Holliday
Prior to the 2010 season, Mark McGwire worked with Matt Holliday on simplifying his stride. While that conversation was likely a bit premature, I believe that Matt Holliday's increasingly slow starts are symptomatic of what McGwire was concerned about.
As he gets older, it appears to be taking Matt Holliday longer and longer to get his timing locked in due to the magnitude and complexity of his stride.
One option would be for Matt Holliday to radically simplify his stride as McGwire suggested (perhaps using Albert Pujols or Jim Edmonds as the model). However, there are tweaks that could be made to Holliday's existing stride that would allow him to maintain that leg kick that he is obviously comfortable with but still reduce his need to adjust by lunging at the ball.
Jon Jay
I was been impressed with how Jon Jay was able to make adjustments to his swing during the 2014 season. In general, I think his swing is moving in the right direction. However, there remain a couple of opportunities for improvement.
First, Jon Jay employs a wide stance and stride that, as with Allen Craig, can cause problems with with his lower body. Second, I have seen a tendency for Jon Jay to let his hands go too soon. I don't know is the issue is related to the timing of his stride or due to another cue, but the result is a reduced level of efficiency and a decreased ability to hit for power.
Pete Kozma
In my opinion, Pete Kozma is another example of a hitter whose potential has been limited by the hitting instruction that he has received, likely going back to high school.
To a large degree, and as with Matt Adams, a large part of Pete Kozma's problem comes down to his posture; he starts out too erect and has no idea how to efficiently adjust to balls down in the strike zone, creating holes both up and down in the strike zone. As he tries to incorrectly compensate for balls down, he creates problems with balls up.
What's more, and as I discuss in my earlier piece Pete Kozma's Swing and my more recent piece on Pete Kozma and the Pure Rotational Swing, Pete Kozma's swing is too stripped-down. While it may have worked with hotter BESR bats, Kozma doesn't put enough energy into the system to be able to hit the ball consistently hard or well.
The good news is that these problems aren't fundamentally mechanical and can be fixed with proper instruction.
Justin Masterson
I know that Justin Masterson is likely a moot point with respect to his future with the Cardinals. However, I bring his name up because I believe that his brief tenure with the Cardinals exposed some significant problems in the team's understanding and evaluation of pitching mechanics.
First, and to be clear, I would have been fine had Masterson been regarded as a long-shot bet that simply didn't work out. However, I find fact that Masterson apparently wasn't regarded as what he was -- as a long shot -- to be disturbing.
Justin Masterson's arm action is one of the worst in the major league, and his timing may be the worst of any active major league starter.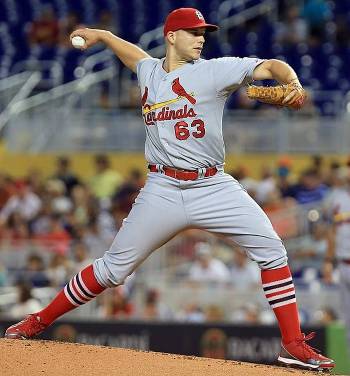 At a minimum, it's disturbing to hear Justin Masterson's problems characterized as being relatively minor, mechanically speaking, when, in truth, Masterson's arm action is extremely problematic.
What was worse was the proposed cure. Staying tall in the back leg isn't going to make things better for Justin Masterson. Instead, it's likely the cause of his problems; it made his lower body extremely inefficient and forced him to develop his tortured arm action.
Shelby Miller
As I discuss in my piece on Shelby Miller's pitching mechanics, I have concerns about Shelby's long-term prospects due to his arm action.
Kenny Peoples-Walls
Kenny Peoples-Walls, like Mark Reynolds, appears to have a problem with Bat Drag. While Mark Reynolds has admittedly had some impact at the major league level, KPW's bat drag should be monitored and immediately addressed at the first sign that it is causing his progression up the ladder to stall.
Jhonny Peralta
While Jhonny Peralta is admittedly exceeding the value of his contract, I believe that he is still leaving power and average on the table.
Jhonny Peralta is the most fudnamentalist, vertical barrel, low front elbow hitter on the team. Matt Carpenter sets up with a low front elbow, but he (largely) doesn't let it get in his way.
However, the same isn't true of Peralta.
Again, and as I discuss in my piece on David Freese's Swing and Keeping Your Front Elbow Down, the problem with keeping your front elbow down and the barrel up for too long is that, aside from not achieving the (physically impossible) goal of keeping the barrel above the ball and the hands, it will also tend to create a hole at the top of the strike zone.
That is precisely what you see when you look at Jhonny Peralta's whiff rate.
I know that Stan Musial and Ted Williams were low front elbow guys, but if you really understand their swings, then you will realize that their swings were more complicated than is widely understood.
Tommy Pham
When I look at Tommy Pham, I see a stance that is right on the edge of creating similar problems to those that Allen Craig experienced.
Shane Robinson
Shane Robinson appears to be another hitter who has been bitten by the keep your front elbow down bug and whose numbers aren't being helped by this cue, at a minimum.
Trevor Rosenthal
Trevor Rosenthal had an off year and I think some of his problems can be traced to problems with how he grips the ball; I have noticed changes in the placement of his thumb and some other problems with his index and ring fingers that could lead him to accidentally throw a cutter. He also needs to make sure that his cleats are clean of mud in wet weather, because the force with which he rotates does leave him subject to rotating off line.
Xavier Scruggs
While many people are heralding the arrival of Xavier Scruggs and touting him as a possible platoon companion for Matt Adams, I have deep concerns about Xavier Scruggs' ability to hit major league pitching.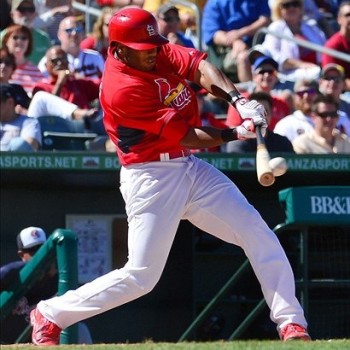 The problem is that, given his typical -- more extended than is customary -- position at the Point Of Contact, Xavier Scruggs looks to be a prototypical "throw your hands at the ball" hitter. Unfortunately, and as I touch on in my piece on the myth of extension in hitting, that approach to hitting, while widely taught, significantly restricts hitters' ability to adjust to off-speed pitches. At best, while "throw your hands at the ball" hitters are able to make consistent contact, their power can be spotty at the major league level.
However, this is not an irreparable flaw.
"Throw your hands at the ball" was one of the things that Andres Torres was taught, and I was able to help him quickly change his swing with some instruction about the proper role and path of the hands in the swing.
Michael Wacha
As I discuss at length in my piece on Michael Wacha's Pitching Mechanics, Michael Wacha appears to have a problem with over-throwing; you can see the difference when he ramps up the velocity on his fastball.
However, another thing I have noticed of late are indications of mechanical differences in Michael Wacha's delivery not only from fastball to fastball but between his fastball, change-up, and curveball. What's more, I have seen some problematic scapular movement patterns when Wacha throws his change-up.
Kolten Wong
I have discussed Kolten Wong's swing at length before, and see a continuing problem with chopping down on balls (especially balls in the lower 2/3 of the strike zone) but an improved approach to balls up. That could point to a swing plane problem that is the result of a misguided attempt to create backspin.
Like Daniel Descalso, Kolten Wong exhibits some arm bar; he fully or nearly fully extends his front arm. The problem with do that is that it can reduce one's ability to cover the inner part of the strike zone. I believe that Wong could improve his plate coverage if he worked on keeping some flexion in his front arm instead of always extending his front arm.
A third area of concern with Kolten Wong is his widely-touted bat speed. While bat speed is good, there is such a thing as too much of a good thing. Remember that Albert Pujols' bat speed was a relatively middling 87 MPH. By certain objective measures, Kolten Wong's bat speed is in the fastest group. That may explain his power but also his relatively low average and relative dearth of extra base hits. It could be that dialing down his bat speed could make Kolten Wong a more productive hitter.
Notes
1. When reading my recommendations about hitters, you should understand that many of my recommendations are based on my belief that members of the St. Louis Cardinals, like members of most major league organizations, still buy into what I believe are a number of myths about hitting...