Albert Pujols' Stride
9.2.2011
I started this piece back in 2011, after seeing Albert Pujols get off to an uncharacteristically bad start. I then moved it to my client site as I continued to expand it and it became relevant to the swings of increasing numbers of hitters.
Clients can view the updated version of this piece here...
The Secrets of Albert Pujols' Swing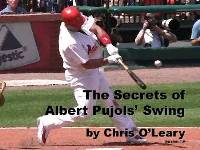 If you want to develop a comprehensive understanding of Albert Pujols' swing, I have put together an eBook entitled The Secrets of Albert Pujols' Swing. It contains 650+ pages of photos and descriptions and is available for just $12.
For More Information
Additional free information about Rotational Hitting and the High-Level Swing is available through my private client site. To access this additional free information, and to see how much, and what kinds, of information is available to my clients, all you have to do is register.