Welcome to ChrisOLeary.com, where I discuss the different projects I am working on, including the pitcher injury epidemic and my old nemesis, the Inverted W, as well as pitching and hitting in general.
FOLLOW ME ON TWITTER
I tweet @thepainguy to keep people updated about what I'm working on and to provide quick-hit analyses of hitting and pitching mechanics and related topics.
DOMINANT & DURABLE: DAVID PRICE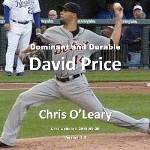 My newest product is Dominant and Durable: David Price, a nearly 600 page breakdown of his pitching mechanics. I believe that David Price has the best pitching mechanics of any active pitcher, and I have spent the past month collecting 120 Frames Per Second clips of David Price's pitching mechanics and assembling them into a flipbook that is on SALE for just $14.95.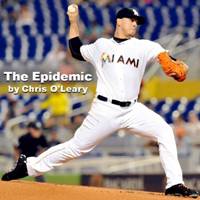 THE EPIDEMIC
As a result of the recent discussion about the baseball pitcher injury epidemic, I have put together a piece called The Epidemic that gives my view of what is happening, why, and what coaches, parents, and physicians can do about it. In order to ensure that everyone who wants to read The Epidemic can do so, rather than charging a fixed amount for it, I have made The Epidemic available via a Pay What You Can pricing model.
WORLD SERIES PROVEN DVDs & FLIPBOOKS!

A number of my clients play or have played in the major leagues, including two on World Series teams. My most successful client to date is Andres Torres, who put up 6.5 fWAR in 2010 and is pictured above hitting a home run in the 2010 World Series.
ALBERT PUJOLS FLIPBOOK


When I first met Andres Torres, he was on his way out of baseball due to his inability to hit for power or even average. With the help of my Albert Pujols Flipbook Swing Analysis, Andres learned what a good swing actually looks like and started to turn his career around.
THE SECRETS OF ALBERT PUJOLS' SWING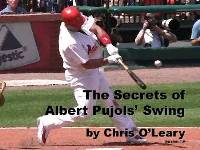 My newest hitting eBook is The Secrets of Albert Pujols' Swing. It is a detailed and comprehensive analysis of the swing Albert Pujols, of one of the greatest complete hitters of all time. The Secrets of Albert Pujols' Swing is available as a PDF and is just $12.

FIXING BAT DRAG
My sons' struggles with Bat Drag, and the fact that nothing I tried to fix their swings worked, drove me to understand the swing. Fixing Bat Drag combines everything I have learned in ten years of fixing the Bat Drag in my sons' swings and the swings of their friends and teammates, all for just $12.
HITTING & THROWING BASICS BUNDLE
I am constantly asked if I have any products for younger players. As a result, I have created a Hitting & Throwing Basics Bundle which is designed to get young baseball and softball players on track and, just importantly, help their parents and coaches keep them from getting off track.
THROW HARD, SAFELY


If you are interested in learning how to throw hard, safely, then in my opinion the place to start is by studing the pitching mechanics of Nolan Ryan. Nolan Ryan: Dominant and Durable is nearly 700 pages long and is available for only $19.95