Chris O'Leary's
Rotational Hitting 101
Streaming DVD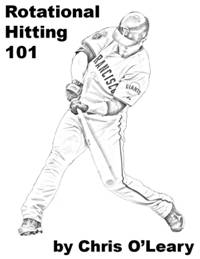 My Rotational Hitting 101 streaming DVD explains the high level swing and how to teach it to baseball and fast pitch softball players of all ages.
Rotational Hitting 101 draws upon the thousands of hours I have spent analyzing the swings of the best baseball and fast pitch softball players.
What's more, since February 2016 I've been the Hitting Coordinator for HSSU, teaching the players using, and continually improving, my system.
How have the guys hit since I started working with them?
| | | | |
| --- | --- | --- | --- |
| YEAR | AVG | SLG | XBHs |
| 2013 | .248 | .324 | 56 |
| 2014 | .298 | .412 | 72 |
| 2015 | .263 | .357 | 74 |
| 2016 | .311 | .449 | 144 |
| 2017 | .334 | .472 | 142 |
| | | | |
My Lessons Learned gives more stats and discusses what we work on and why.
By watching Rotational Hitting 101 and reading the wealth of other material that is available on my client-only web site, you will learn...
What a high-level swing looks like.
How high-level swing works.
How to fix Bat Drag, the biggest problem affecting younger hitters.
How coaches and instructors are accidentally ruining their hitters' swings by not understanding the swings of Ted Williams and Barry Bonds.
...and much more.
Rotational Hitting 101 is available as part of my Hitting Bundles and Hitting & Pitching Bundles.
Rotational Hitting 101 has helped a number of my clients make it to, and stick at, the major league level. That includes Andres Torres, who helped the San Francisco Giants win the 2010 World Series.
There's a guy called Chris O'Leary...He's online. He talks about rotation. He's got video examples of Pujols, and I watched that.
- Andres Torres 2012
Sports Illustrated's profile of Andres Torres explains how, with the help of my Rotational Hitting 101 DVD and the flipbooks and other materials that are available on my client-only web site, Andres changed his swing and approach from a linear to a rotational model.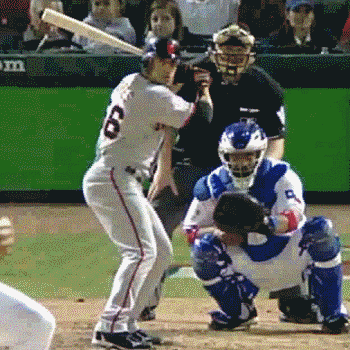 Andres Torres
Home Run to Right Field
2010 World Series
In particular, the Sports Illustrated piece discusses how the concept of Connection, which is another one of the key concepts of Rotational Hitting, was especially critical to Andres' process of rebuilding his swing and turning around his career.
Where It ALL Started
When my kids got older, and started playing baseball, I quickly learned that I didn't know anything (of value) about hitting. The Charley Lau, Linear Hitting approach that I was taught didn't work for my kinds and their friend, just as it hadn't worked for me when I was a kid.
Everybody was talking about Mike Epstein and his approach to teaching Ted Williams' Rotational Hitting, so I got Epstein's book and DVDs. While they were a significant improvement over Charley Lau's ideas and approach, I came to realize that something was missing; there were a number of important differences between what Mike Epstein was teaching and what the best hitters were (actually) doing.
Following the advice of some very smart dads who had been in my position, I bought Ted Williams' The Science of Hitting. I also set out to read everything Ted Williams had written or said about the swing.
Given that I live in St. Louis, I also started going to as many Cardinals games and collected as many pics and clips as I could of Albert Pujols. The idea was to gather first-hand knowledge about what made his swing special and why and how it was different than I was taught.
By 2006, I had learned enough about hitting that I decided to test my knowledge and ability to explain what I had learned with my...
That is the same flipbook that Andres Torres stumbled across in 2008 and was the key to turning his swing and career around.
My conversations with Andres Torres, his desire to see Ted Williams' ideas explained with video, and the need to address topics like Adjustability that Ted Williams didn't address due to his playing in a different era, drove me to put together my Rotational Hitting 101 streaming DVD and my client-only web site starting in 2008. The hope was, and remains, to build on, and explain with high speed video, the ideas Ted Williams discusses in The Science of Hitting and elsewhere.
I frequently receive e-mail testimonials from satisfied customers.
THANK YOU CHRIS.

We bought your information a little over a year ago. Below is a picture of my son hitting his first homer since moving up to the 90 foot field. His name is Alec and he is 14 years old. Homer to the Left Field Gap.

Ed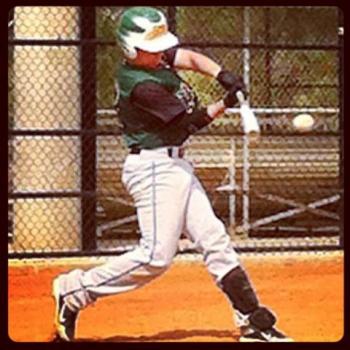 Chris,

When I first purchased your program I was a bit nervous that I was wasting my money. Six weeks later, my nervousness has turned to extreme delight! Your depth of knowledge and research is exemplary. More importantly, you have the ability to convey every aspect of the swing clearly and thoroughly. My 11 year old son has been transformed in just 6 weeks! We have certainly put in many hours of practice in that time, but it is showing great dividends. He has gone from hitting every ball straight down into the ground to driving the ball with considerable power. His confidence has skyrocketed! The best part of it all is that he is beginning to understand the high level swing. I am extremely thankful to have found your website.

Thank You!

Lance M.
December 2014
Rotational Hitting 101 is available as part of my Hitting Bundles and Hitting & Pitching Bundles.
Free Information on Fixing Bat Drag
Bat Drag is the biggest problem facing young hitters and is the biggest reason why hitters are unable to play beyond grade school. With your purchase of my Rotational Hitting 101 DVD, you will also get access to my latest information on bat drag and how to fix.
Contents
Rotational Hitting 101 contains 1 hour and 45 minutes of material and is organized into the following sections...
- Introduction (15 Minutes)
- Key Concepts (30 Minutes)
- Stages of the Swing (20 Minutes)
- Rotational Hitting Drills (35 Minutes)
Any Questions?
If you have any questions about Rotational Hitting 101, please read my FAQ or feel free to give me a call at 314.494.1324 or e-mail me.
Streaming DVD Details
Running Time: 1 Hour 45 Minutes
Publisher: The Limb Press LLC
Current Version: 1.0 (November 2008)
Language: English
Replacements and Refunds
My replacement and refund policy is explained here.