Am I telling the truth?
Or lying?
That's a reasonable question.
A question I hope is answered by the large number of corroborating statements I have accumulated over the years.
Corroboration
Why should you believe me?
Especially given what the Archdiocese of St. Louis has said about — and against — me?
+Carlson Meeting
On March 26, 2019 I met with Archbishop Robert Carlson of the Archdiocese of St. Louis...
...a meeting I (secretly) recorded and transcribed...
...just in case they decided to keep playing games, which of course they did.
That meeting only happens if they believe you.
If it happened.
And that should be all you need to know.
However, given the Smear Campaign the Archdiocese of St. Louis is running against me, and what you might have heard about me, let me give you a number of other reasons to believe me.
Flannel Shirt Guy
I don't just have the picture of me with Fr. LeRoy Valentine, Number Shirt Guy, and Flannel Shirt Guy...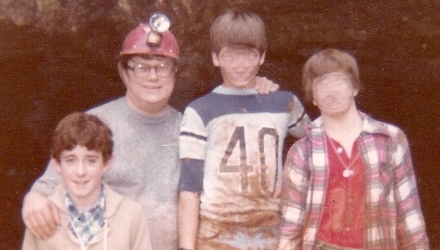 ...but Flannel Shirt Guy has a show and had me on to go over my — and our — memories of our experiences with Fr. LeRoy Valentine at Immacolata. During that interview, Timothy Cardinal Dolan's name also came up.
Interview with Peter Pfeifer
(aka Flannel Shirt Guy)
8.23.2019
R
A few hours after the April 28, 2018 piece by Aisha Sultan entitled Priest Sex Abuse Survivor Says Trauma Lingers — in which a spokesman for the Archdiocese of St. Louis said I was lying and my story changed "multiple times" — I received a DM via one of my Twitter accounts from a survivor I'll call R...
Hello Chris my name is R, I graduated from Immacolata in 19__, was a alter boy and had to get "hair cuts" from Fr. Valentine in his bedroom, so I unfortunately know too. What angers me as much is several times leaving Valentines bedroom, fr. Timothy Dolan, now Cardinal Dolan lived in the room next door & would be standing right there & never did anything
T
I've talked about how I came forward in early March 2002 and...
...called me back. What I didn't find out, until the last year or so, was that...
I wasn't the only person who came forward in March 2002.
Fr. LeRoy Valentine resigned at the end of March 2002, something ArchStL never informed me of.
A year ago, I figured out, from reading articles in the papers, that someone else had come forward, and was then contacted by that person.
Chris

I was the credible accuser against Fr. Valentine in 2002.

I had know idea you have been going through the same anguish I have till now

XXX.XXX.XXXX call me. I can (corroborate) all your stories.

Dolan knew.

I read about John Scorfina in 2002 while I lived in California and felt compelled to come forward to confirm his story. That's when he and I met and told our stories. Contact me when you gave time.

I threatened Dolans admins and hired a law firm recommended by David Clohessy out of Michigan and charged St. Archdiocese w/ racketeering. They immediately dismissed Valentine.

True story

You were right. I experienced everything you did.

TXXXX XXXXX
C.K.
On December 20, 2017, I wrote my first piece discussing my experiences back then and more recently. For reasons that will become obvious upon reading the piece, I called it Assistance Coordinators & Other Lies. While I received a number of comments, one comment stood out.
I went to Immacolata parish and school 1976–1979. I knew Fr. Valentine (and Cardinal Dolan, then Fr. Dolan, there at the same time) well. Fr. Valentine was known throughout SLU High and other private high schools and even SLU because kids at Immacolata would share with their older siblings. His behavior with the boys was always creepy and highly suspect. I told my parents and some other girls told their parents too, but we were blown off. I even told a couple of teachers I suspected inappropriate behavior (hugging boys waaaay to long, then rubbing their chests, not to mention the constant attempts at wrestling). The boys I asked always denied abuse, but admitted to hating the hugging and touching.

J.T.
While reading the comments is generally a mistake in life, I've learned it is one way to find fellow survivors.
When I filed my lawsuit in October 2015, and the story was covered by the Riverfront Times, someone left a corroborating statement in the comments to that piece.
(Fr. LeRoy Valentine) was a deacon at St. Margaret Mary in south St. Louis county - I was 15 yrs. old. He was taking me home when he parked in front of my and tried to molest me, 20 years later he performed a funeral mass I was attending. That was the next time I'd thought about it and I wish I hadn't.
This same person left a similar comment on the SNAP press release commenting on my lawsuit.
In 1975 when he was still a deacon (Fr. LeRoy Valentine) tried to molest me while parked in front of my parents house (he was dropping me off after a

CYC

event). The story is longer and complicated but what is nagging now is the desire to say I'm sorry to those who were abused after me.
M's Friend
I knew Fr Valentine when he was at IHM in the city in 93.

At 16 I knew something was wrong with him.

My sisters bestie I think was abused by him.
He was in the class above her.
There were 3 boys.

That's all M would say.

Given the train wreck of M's life...I strongly suspect Valentine got him.

I have a vague memory of CYC/youth group.
He was in charge.
It was strange.
He had us play some game...with lifesavers...where you passed them between each others lips.

Like fake kissing almost.

It's so strange I want to believe it's not real.

I never went back.

M's dead.

He died in November 2016...from diabetes complications. He never took care of himself properly.

M never admitted it. The most I got out of him was that he felt guilty that Valentine picked his friend.

There was a baseball game Valentine took the 3 of them to.

Pray, pay, and Obey.
He was at St Gabriel before IHM.

I remember one of my classmates gushing about him and I was like there is something *wrong* with him.

And there but for the grace of God...I'm a girl...I gave him a ride as a 16 yr old girl...so naive.

Classmate was a girl.

I cringe now thinking about it.

I'll try to get some names from my sister.