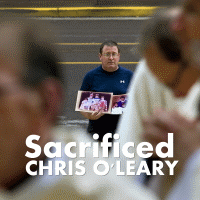 This is a complicated subject, so I spend half of my talks answering questions.
I address many of the most frequently-asked questions in my talks, and others here.
Frequently-Asked Questions
I did a Survivor Q&A, both in vlog and podcast form, several months ago.
If you have a question — about ANY aspect of my story — please e-mail me. You're not going to offend or trigger me.
Odds are, I've asked it myself.
A hundred times.
GoFundMe
If you'd like to help support my efforts to create this podcast, and expose the Abuse of the Abused by the Catholic Church, as well as The Program — or to just help me to eat and pay my bills while I'm spending my time on this project — I've set up a GoFundMe...
Where were your parents?
- At the Greenbriar
- During the worst stuff
- Special Training
- Dropped me off
- Risk & Pizza Party
- Safest place in the world
- Honor
- Privilege
What did your parents say and do when you told them?
-- 4th grade and Mrs. Martignago
- Despite that, I'm lucky
- 2 guys told to never tell anyone
- Alcoholism
- Never seen grandchildren
- Helping me with therapy since 2002
- Knew something was going on
- Just didn't know what
- Spring/Summer 2002
- Laura talking to my mom on sofa
- My dad won't discuss
- Stunned
- Betrayed
- Friend he admired was an abuser
What is enabling? How can laypeople not enable the hierarchy?
- No
- Idolization
- Romanticization
- Unquestioning deference
- Speak up and out to...
- Priests
- Bishops
- You can NOT trust the hierarchy
- Still
- Hierarchy = Where allegations DIE
- Take PERSONAL responsibility
- For the safety of children
- Take training seriously
- Two man rule
- No exceptions

Therapy
- NOTHING
- Despite VOS ESTIS
- $30,000 out of pocket
- Wild Goose Chase
- 2002 and Dolan
- Late March 2002
- No follow-up call
What happened next?
Since high school?
I discuss what's happened to me since at length in my podcast, and especially in two episodes...
How have you kept your faith? How do you go to mass?
I haven't been to mass since Easter 2014. And it's VERY hard for me to set foot in a church.
When I have to go in a church, to attend a graduation or recital, I sit in the very last row — or stand — next to a door and then leave as soon as I can.
What did you do to report your abuse?
I didn't understand that it was abuse.
Some of these were my most cherished memories; when I felt special and singled out.
The term "special training."
I didn't remember the worst stuff. It was blacked out.
I did react.
Mrs. Martignago told my mom. Panic attacks in 4th grade and 7th grade.
How many survivors go public?
A tiny fraction.
Maybe 1 in 10. Or 1 in 100.
It's like an iceberg.
I know of 15 guys who were abused by Valentine, or likely were, and I'm the only one who has gone public.
Survivors don't go public because they've seen what's been done to me; the Smear Campaign.
How Did You Feel During the Abuse?
- I didn't feel anything
- He distracted me
- Special Training
- Denial
- Uh, it's Fr. Valentine
- Misinterpreting
- Confused
- Gender confusion
- No big deal/Not a think
- Lack of a reaction from Dolan
- Ambivalent
- Hugging
- During the worst stuff
- Disappeared into my head
Why is the Press ignoring you?
Protecting the Archdiocese. St. Louis.
Enabling.
Same for both Missouri Attornies General.
Senator Josh Hawley
AG Eric Schmitt
Don't tell people what they don't want to hear.
Problem is editors and not reporters.
What did Dolan know?
I address the topic of what Cardinal Timothy Dolan knew and did, and when, in the episode of my podcast entitled...
In sum, in 2002 Dolan was allowed to cover up what he did — and and NOT do — in the late 1970s at Immacolata, at least.
Has Dolan apologized?
No.
He's never addressed, much less apologized for, anything I've said. His only response has been to block me on Twitter.
He also refuse to answer any questions regarding my allegations presented to him by third parties, like the folks at the Angry Catholic Show.
At some point, I plan to go to NYC to try to talk to Dolan.
At a minimum, I plan to stand vigil out in front of St. Patrick's Cathedral.
What should the church do to abusers?
Do NOT just cut them loose.
Incentive to screen better.
You break it, you buy it.
How can laypeople support survivors?
Talk about survivors and our plight.
With friends, priests, and bishops.
Make it clear you don't like what's happening.
How do we hold the Hierarchy accountable?
First, don't leave. Stay and fight.
Second, let them know you don't like what's being done. Tell your priests. Tell your bishops.
I suspect they see silence as assent.
They're protecting the church and its money.
What else needs to change? Besides minimizing and covering up?
Survivors need to be helped.
Actually.
Otherwise the hypocrisy will kill it all.
Are the Catholic League and Bill Donohue supportive of survivors?
No.
They see us as the enemy.
And, by and large, liars.
People who are out to rob the church blind.
Bill Donohue of the Catholic League is a prime example of an enabler. He's a blind supporter of the church and the bishops and, in my experience, no friend of survivors.
He's the problem and not the solution.
Are there networks of survivors?
Yes.
- They don't have money to help
- With therapy
- I don't like group therapy
- Too angry to be effective
- Why I'm on my own
- Outside the church
We need allies INSIDE the church.
Where is Jesus leading the church?
- I don't know
- I don't PRESUME to know
- This is Satan
- Satan is calling from inside the church
- This IS a test
- Evil
- Why bad things happen
- Free will
- Good people refuse to act
- Personal responsibility
- How well did delegating go?
- Delegating bishops
- Gates of hell will not PREVAIL
- Doesn't mean you won't have to fight