2.25.2008
Kerry Wood, like Mark Prior, is a pitcher who showed tremendous promise when he first came up but then experienced a series of injuries. I think Kerry Wood's problems are due to both his mechanics (and a timing problem) as well as his reliance on his slider.
Pitching Mechanics Analysis
Kerry Wood
A pitcher's arm action and timing are the primary determinants of the long-term health of their arm, so it's always the first thing I look at. As the clip below demonstrates, Kerry Wood's arm action demonstrates some problems.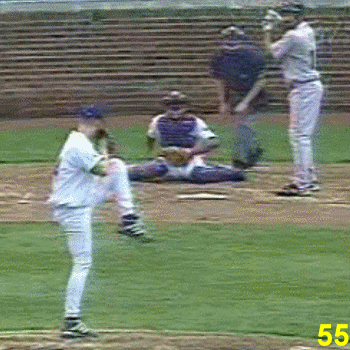 Kerry Wood
The issue is that, like Chris Carpenter, BJ Ryan, and Scott Williamson, Kerry Wood has some Inverted L in his arm action. This hurts his timing and is the root cause of his shoulder problems. It probably also has something to do with his elbow problems.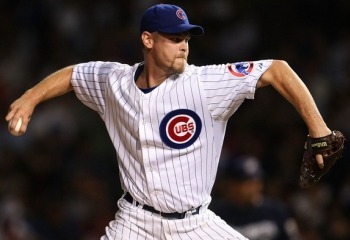 Kerry Wood's Inverted L
Kerry Wood's Inverted L is easier to see in the still photo above, which is from basically the same moment in time. The thing to notice is how his Pitching Arm Side (aka PAS) elbow is at the level of his shoulders and his PAS forearm is hanging down beneath it. This will increase the distance over which, and the force with which, Kerry Wood's PAS upper arm will externally rotate, which will put significant stress on both his elbow and ultimately his shoulder. One thing I should note is that Kerry Wood's Inverted L isn't as bad as BJ Ryan's.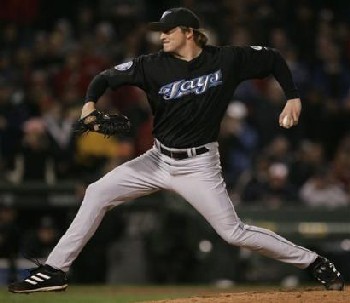 BJ Ryan's Inverted L