Pitching Mechanics Analysis
Jonathan Broxton
10/2/2008
The video clip below is of the pitching mechanics of Jonathan Broxton. In this case, he is throwing a 96 MPH fastball.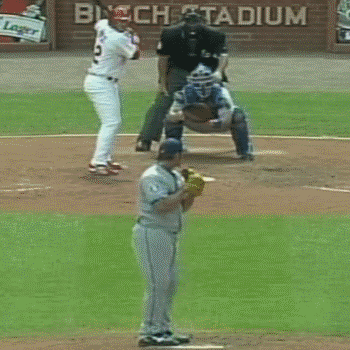 Jonathan Broxton
The thing to notice in this video clip is his Inverted W or Inverted V and how it creates a timing problem which increases the load on both his elbow and his shoulder.
Jonathan Broxton
You can see in Frame 67 that Jonathan Broxton picks up his elbows after breaking his hands and swinging his Pitching Arm Side (PAS) forearm back toward Second Base. You can also see that Jonathan Broxton's PAS forearm is horizontal in Frame 72, which is the moment that his Glove Side foot plants and his shoulders start to rotate.
Jonathan Broxton
This will increase the distance over which, and the force with which, Jonathan Broxton's PAS forearm will externally rotate. This in turn will significantly increase the load on Jonathan Broxton's PAS elbow and PAS shoulder.
Jonathan Broxton
However, it's hard to say exactly when this problem will manifest itself since, like Billy Wagner, Joel Zumaya, Aaron Heilman, and Jensen Lewis, Jonathan Broxton is a reliever and pitches fewer innings during the year. As a result, he may be able to survive this timing problem longer than would a starting pitcher. However, regardless of when his problems with his pitching mechanics start to crop up, Jonathan Broxton is at an elevated risk of experiencing elbow and shoulder problems.