Pitching Mechanics Analysis
Jake Peavy
5/27/2008
Updated 10/18/2008
Jake Peavy is a pitcher who, in the words of Napoleon Dynamite, has tremendous skills. However, as I have said before, I think Jake Peavy also has questionable pitching mechanics, and I think the combination of his questionable pitching mechanics and the fact that he throws the slider help to explain his recent elbow problems.
Arm Action And Timing
A pitcher's arm action and timing are the primary determinants of the long-term health of their arm, so it's always the first thing I look at. Jake Peavy's arm action is borderline to bad, as the clip below demonstrates.
The problem is that Jake Peavy has a significant Inverted V in his arm action. This hurts his timing and is one cause of his elbow problems. It will also set him up for Rotator Cuff and Labrum problems in a few years.
Jake Peavy
The thing to notice in the clip above is how, in Frame 24 and Frame 25, Jake Peavy starts to pick up his Pitching Arm Side (PAS) elbow so that it ends up well above his PAS hands.
Jake Peavy
While Jake Peavy's elbow doesn't get as high as Mark Prior's, it gets high enough to create a timing problem. Notice how in Frame 26 and Frame 27, Jake Peavy's shoulders start rotating before his Pitching Arm Side (PAS) forearm is vertical. This is what pitching coaches refer to as rushing, and it can significantly increase the load on both the elbow and the shoulder.
Given that the video clip above is from 2008 Spring Training, it's interesting to note that Jake Peavy's rushing problem and timing issues appear to have gotten worse over the year. This may help to explain why Jake Peavy's problems are cropping up now.
Overall Pitching Mechanics
Now that I've given you an overview of Jake Peavy's arm action, let me get into the details of his overall pitching mechanics using a Center Field view of him pitching that point out a couple of other things that are also of concern and that may help to explain his recent elbow problems.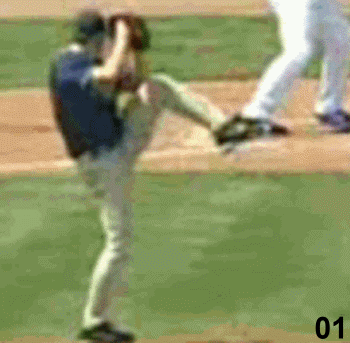 Jake Peavy
First, notice Jake Peavy's somewhat unusual arm action. Notice how, after he breaks his hands, Jake Peavy leads with his PAS elbow and ends up with his PAS elbow quite high. This affects his timing and makes it harder for him to get his PAS forearm up into the proper position at the moment his shoulders start to rotate.
Second, notice how Jake Peavy, rather than finishing with his glove at his Glove Side (GS) pec, flies open with his glove and finishes with his glove out to the side and away from his body. The problem with flying open with the glove is that it will tend to slow down the rotation of the shoulders and can make a pitcher less efficient. I think flying open with the glove may help to explain Rich Harden's shoulder problems.
Third, Jake Peavy locks his glove side knee through the release point. While locking the GS knee can give a pitcher a velocity boost of a few MPH by increasing the force with which the hips rotate, it is a trick or shortcut that I think it can increase the load on the elbow and shoulder joints by keeping the GS leg from absorbing the shock of the delivery. The thing to notice in the clip above of Jake Peavy is how his body bounces backwards and to the side off of his GS leg. At a minimum, this is bad for his GS knee and hip.
Fourth, Jake Peavy has tremendous tail (e.g. movement to the pitching arm side of the body) on his fastball. While this can indicate powerful pronation through the release point, which can help to protect the elbow, I have had a number of conversations about this topic with Carlos Gomez and have come to agree with him that whether or not tail implies the presence of pronation depends on a pitcher's arm slot. Simply put, it's easy for a high sidearm pitcher like Peavy to get a lot of tail on his ball without pronating his forearm. This is because when you throw the ball sidearm, your fingers will tend to be on the side of the ball at the release point, which will cause the ball to spin on a vertical axis. It is much harder for a pitcher like Greg Maddux to get natural tail on the ball because of his high 3/4 arm slot. It is much more likely that Maddux's tail is due to pronation because his ball will naturally tend to spin on a horizontal axis. Only pronation would explain why Maddux's ball would spin on a tilted or vertical axis.
Finally, Jake Peavy throws the slider, which is a pitch that I hate (I also hate the cut fastball or cutter). I hate the slider because it involves high-speed supination of the forearm, which focuses the load on the UCL. I think that the slider, combined with some mechanical problems, is the thing that derailed the careers of both Kerry Wood and Francisco Liriano.
The Bottom Line
The bottom line on Jake Peavy is that I don't think his recent elbow problems are a fluke or something that he will just breeze through. Rather, I think they are a symptom of a more serious and fundamental problem that may well derail his career.
Update 10/18/2008
Jake Peavy is one of the pitchers whose arm action doesnt quite fit into the Inverted W, Inverted L, and Hyperabduction buckets and led me to develop the Inverted V category.
Jake Peavy
Jake Peavy
Jake Peavy
Also, as a result of a conversation with Carlos Gomez I have been persuaded that the tail on Jake Peavy's ball is more a function of his lower arm slot than it is due to pronation on his part. This means that his elbow is likely more at risk than I originally believed.