Andres Torres' Swing
People are understandably interested in the swing of my client Andres Torres, how it has changed over the years, and how I helped him make those changes. As a result, I have put this piece together to explain how Andres swing has evolved over the years and how that has affected his performance, both positively and negatively.
Andres and Rotational Hitting
Before I get into how and why Andres' swing has changed, let me first address a misconception about Rotational Hitting. One way that people criticize Rotational Hitting is that they say that, while it may be appropriate for larger hitters, it isn't appropriate for hitters who are of more average size. To that I say I taught 5'9" and 190 pound Andres Torres the same stuff that I teach my 6'4" and 230 pound clients. I did that because all bodies, regardless of their size, move basically the same and because physics are physics.
Andres and the Texas Rangers
After he was drafted, Andres' coaches saw his speed and ability to hit from the left side and tried to turn him into Ichiro Suzuki. That meant that from the left side of the plate he would basically slap everything into the ground and try to beat out the throw with his speed.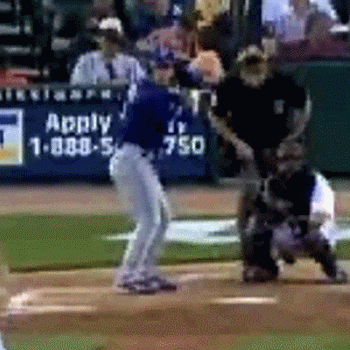 Andres Torres
With the Texas Rangers
Even when he went from the right side, Andres still had a very disconnected, push-y, throw the hands at the ball, linear swing that worked in the minor leagues but that didn't work against major league pitching and defenses.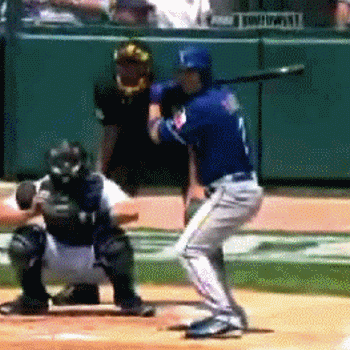 Andres Torres
With the Texas Rangers
In the clip above, notice how Andres' back elbow slides forward of his back hip as he tries to pull the knob to the ball. That causes him to hit the ball much farther out front than is typical, which keeps him from being able to hit the ball hard.
2008-2009
Andres first contacted me in May of 2008 after viewing my hitting flipbooks of Albert Pujols' swing. That led to a number of long conversations about what Albert Pujols did and why.
I then sent Andres a copy of my Rotational Hitting 101 DVD and gave him access to my client-only web site. During the off-season Andres worked on the concepts, and used the drills, that I use. He totally revamped his swing and approach and by January 2009 his swing looked nothing like his swing with the Rangers.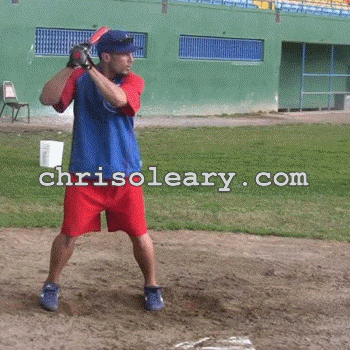 Andres Torres
January 2009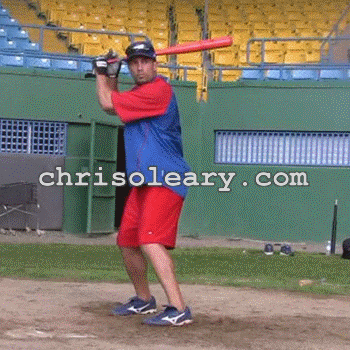 Andres Torres
January 2009
2009
During Spring Training of 2009, Andres made an additional tweak to his swing; he stopped using the big, Alfonso Soriano style leg kick that he had been using and instead started using a small double-tap like Chipper Jones and Carlos Beltran.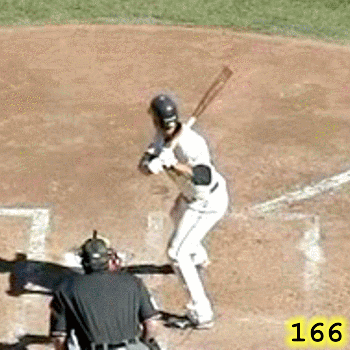 Andres Torres
Home Run to Right Field
October 2009
While some people would say that you have to use a large stride to hit the ball hard, Andres found that that wasn't the case. For instance, The clip above shows Andres using his double tap and clanging a home run off the top of the right field foul pole in San Francisco. He missed another splash hit into McCovey Cove by just a few inches.
2010
In 2010, and in an effort to hit for more power, Andres changed his stride and went to a small leg lift.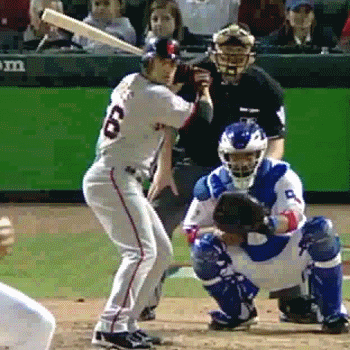 Andres Torres
Home Run to Right Field
Game 3
2010 World Series
This largely worked as long as he didn't try to do too much with the ball; as long as he just tried to hit the ball hard and well and let doubles and home runs just happen.
2011
In 2011, and in an effort to try to hit more home runs, Andres went back to the Alfonso Soriano style, big leg kick that he has played with off and on over the years.
While this big leg kick did work to a degree, it also hurt his consistency by creating a problem with his back foot. In the clip below, notice how, as Andres reaches the top of his leg lift, his weight shifts onto the heel of his back foot.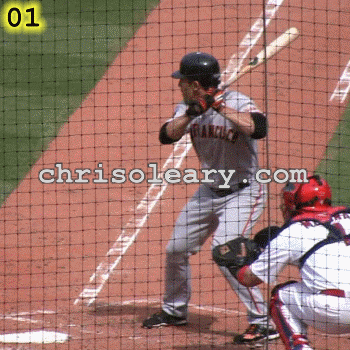 Andres Torres
Grand Slam Home Run to Right Field
June 2011
As a result, when Andres' hips fire, his back foot squirms around much more than you see in a good swing. That reduced the efficiency of his swing — the home run above just squeaked over the wall in right field — and forced him to have to swing harder. That in turn reduced his consistency and killed his batting average.
January 2012
Andres flew me down to Arizona in late January, 2012 so that I could see where his swing was and so that we could figure out what he still needed to work on.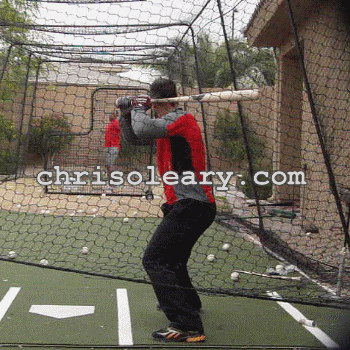 Andres Torres
January 27, 2012
You can see from the clip above, of Andres absolutely destroying a ball, that the problem with his back foot, and his weight going back onto his heels, is largely fixed. Andres is also loading more and better, due in part to his going back to doing some things that had previously been coached out of him.
Andres still has an occasional small problem with his posture and staying too upright and not tilting enough, which is why he didn't cover the entire strike zone as well as he needed to last year. He's also fighting a tendency to lunge at balls outside, which causes his back knee to extend too much.
However, he knows what he needs to do to fix those problems.
I and others have also been working on convincing Andres that his job isn't to hit home runs, but to hit the ball hard, get on base, and put pressure on the defense with his speed. I believe that Andres has taken that message to heart and I am hopeful that he will have a good, if not very good, 2012 season.
March 2012
I managed to get my hands on some clips of the triple to right center field that Andres hit yesterday. It probably would have gone 450 feet if it hadn't been hit directly into a strong wind. As it was, it hit at the base of the wall.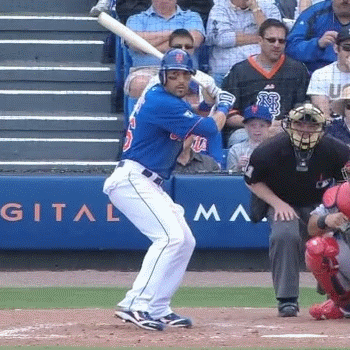 Andres Torres
March 6, 2012
Andres has fixed the few lingering problems that he had in January.
While his weight goes back and his back toe still pops up a bit, the stability of his back foot is much improved over 2011 and he is back to where he was in 2010. His back leg is also working well, with no sign of excessive extension in his back knee.
Andres does a good job of loading his hands and doing so late; as his front foot goes forward and into heel plant. This swing is also an example of pretty much perfect Tilt and Alignment, which is why the ball went as far as it did.
October 2012
Andres finished up the season hitting .230 with an OPS+ of 85 and put up an rWAR of 1.2 and a fWAR of 1.7. That means that he earned his $2.7 million salary three times over, producing $7.6 million of value.
While Andres started off well after coming back from his injury, he struggled through the middle of the year, in part because he was trying to do what he was told and stop trying to pull the ball and just put the ball in play. However, that just resulted in ground ball outs. He also struggled due to his trying to tweak his swing mid-season. That hurt his timing and his consistency.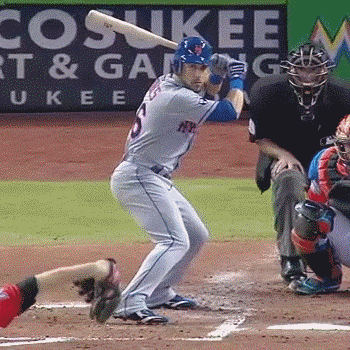 Andres Torres
Home Run to Right Field
October 3, 2012
In September, Andres went back to the approach that he used in 2010, which was trying to hit the ball hard. Andres ended up getting hot toward the end of 2012, to the point where he had a power surge at the end of 2012 and his last hit was a home run.
Rotational Hitting 101 DVD
My Rotational Hitting 101 DVD explains the concepts that I taught to Andres Torres that help him revamp his swing and turn his career around.
Other Players
Andres Torres isn't the only professional baseball player that I have worked with.
At last count, I have one other client in the major leagues, four clients at AAA, three clients at AA, many more clients in the lower levels of the affiliated minor leagues, and multiple clients playing for independent minor league teams and trying to get back on the road to the major leagues. I have also worked with a number of D-1 college baseball and fast pitch softball players.
I don't give out the names of these players because I don't want to get them in trouble with their coaches. While they, and I, believe in what I teach, most of the time it contradicts what their coaches are saying, so they have to keep it to themselves that we are working together.
If you are a minor leaguer and are looking for help, e-mail me and we can talk about how you can get access to my client-only web site.