I absolutely LOVED how Jose Fernandez played the game. He was joy epitomized.
RIP.
However, the fact remains that Jose Fernandez, like so many pitchers, had serious injury problems.
That's because Jose Fernandez's pitching mechanics were deeply flawed.
As a result, Jose Fernandez needed Tommy John surgery after throwing just 225 MLB innings. He then had shoulder problems after coming back from Tommy John surgery.
The flaws in Jose Fernandez's pitching mechanics made it possible to predict both his elbow and shoulder injuries.
The root cause of Jose Fernandez's injury problems were a significant elbow lift and resulting Inverted L and a sadly common movement pattern that I call the Tommy John Twist.
Pitching Mechanics Analysis
Jose Fernandez
Jose Fernandez was the embodiment of everything that's wrong with the current state of pitching mechanics instruction and the modern power pitcher.
Jose Fernandez
March 17, 2016
Jose Fernandez's pitching mechanics combine two major flaws...
...both of which created a severe problem with his...
For ease of visualization, I sometimes refer to this problem as...
I never saw any evidence that either of these problems got better over time.
Jose Fernandez
March 17, 2016
In fact, in March 2016, all I saw were continuing suggestions that they were getting worse over time.
Predictions
I have been expressing concerns — publicly, on Twitter, which has time and date stamps — since a follower brought a troubling picture of Jose Fernandez to my attention.
Jose Fernandez
I have embedded time-stamped, live links — not Photoshop-able screencaps — to some of those predictions below.
Elbow
I expressed concern about problems with Jose Fernandez's pitching mechanics — specifically, problems that put his elbow at risk — a month before his elbow failed on May 11, 2014.
Shoulder
After Jose Fernandez's second start back from his elbow injury, I saw things in his pitching mechanics that concerned me as I took a close look at him.
I voiced my concern about Jose Fernandez experiencing further, even more serious, problems in a 2105.7.27 interview with @MarlinManiac. At 12:59 I discuss my concerns about Henderson Alvarez, then talk about an increasingly common, and very troubling, problem that I call Flat Arm Syndrome. At 13:22 I discuss the concept of Timing and then discuss my concerns about Jose Fernandez's Timing at 13:52.
July 27, 2015 Fishcast
I also expressed those concerns on Twitter @ThePainGuy, and before his shoulder injury was announced, mid-day on August 8, 2015.
The problem was that Jose Fernandez's pitching mechanics hadn't changed for the better and, likely, changed for the worse.
August 9, 2015 Fishcast
I then did a follow-up vidcast to discuss what I saw, what I said, and why, on August 8, 2015. I made a prediction about when I believe Jose Fernandez would break down at 24:15.
Elbow and Shoulder
Given that I live in St. Louis, and have seen his ups and downs, my analysis of Jaime Garcia's pitching mechanics gave me a sense of what likely lay ahead for Jose Fernandez.
In the executive summary of the first version of The Epidemic, I wrote...
In terms of other pitchers who I think could fall victim to the elbow injury epidemic, the picture below of Jose Fernandez was recently brought to my attention by a reader.
Jose Fernandez
Unfortunately for Jose Fernandez and Marlins fans, this picture shows both premature pronation and a resulting timing problem. While this arm action may improve both Jose Fernandez's velocity and his stuff, it will most likely also lead to elbow and shoulder problems.
I also expressed concern about Jose Fernandez's pitching mechanics in my piece on Killer Cues...
As I discuss at length in Pitching MRSA, in my opinion the pitcer injury epidemic began with the proliferation of a cue that I learned as "Show the Ball to Center Field" but that goes by a number of other names...
Show the Ball to Second Base
Keep Your Fingers on Top of the Ball
Jose Fernandez is a pitcher who does this.
Jose Fernandez
Jose Fernandez
The problem with teaching a pitcher to do this is that it will tend to create a Timing problem where the pitcher's arm isn't up and in the correct position at the moment their front foot plants and their shoulders start to rotate.
Jose Fernandez
Yes, ballplayers who are taught to do this will tend to throw better in the short term. But in the long term their elbows and shoulders are being put at risk.
Of course, in my analysis of Matt Harvey's pitching mechanics, I expressed concern that he could fall victim to the same pattern.
The Root Cause
The root cause of Jose Fernandez' injury problems is a movement pattern that I call the Inverted L.
Jose Fernandez's Inverted L
Like the more (in)famous Inverted W, the Inverted L can help pitchers increase their velocity by over-loading their arm and creating a Timing problem.
Jose Fernandez
Flat Arm Syndrome
In Jose Fernandez's case, the Inverted L creates a problem that I call Flat Arm Syndrome.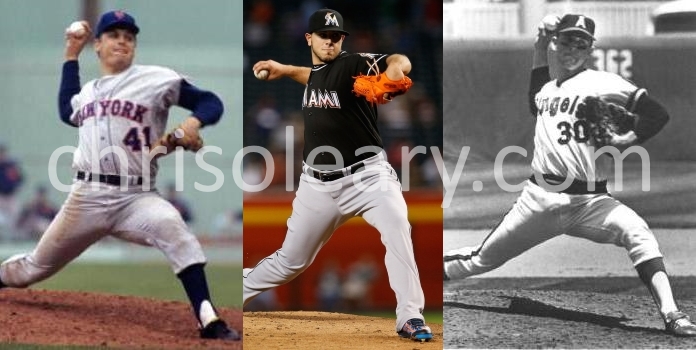 Tom Seaver, Jose Fernandez, and Nolan Ryan
Jose Fernandex also points the ball at second base. That creates a problem called Premature Pronation that can also hurt a pitcher's timing and increase the load on the UCL, the ligament that is replaced during Tommy John Surgery.
Jose Fernandez
Point the Ball at Second Base
Of course, the problem with over-loading the arm is you can cause it to break down. That's why you see a distincly different movement pattern in pitchers who were both dominant and durable.
The Problem
The problem is that the movement patterns that I believe got Jose Fernandez's elbow and are now getting his shoulder are still — if not increasingly — being taught. For instance, I believe the Inverted L is a primary driver of Jose Fernandez's arm problems and also caused Yu Darvish's elbow problems, among others. However, it is at the center of at least one velocity creation program.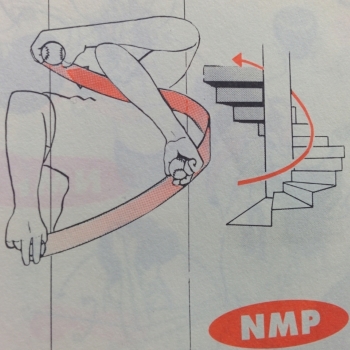 The Elbow Spiral
Yes, the Elbow Spiral may quickly help a pitcher throw harder, but it's becoming increasingly obvious that it works by overloading the arm.
Many people believe pitchers get hurt because their pitching mechanics change. As I say in my analysis of Brandon McCarthy's pitching mechanics, I believe pitchers get hurt because their mechanics are problematic and eventually take their toll.
I looked at Jose Fernandez's pitching mechanics using two clips from the same camera position and didn't see a significant difference, which reinforces the idea that his elbow failed not because his mechanics changed, but because they were problematic from the start.
Having said that, I do believe Jose Fernandez may have changed his pitching mechanics and timing (for the worse) after his elbow surgery. That would explain both why he came back throwing harder than before and why his shoulder failed so quickly.
Other Marlins with Problems
As I discuss in my list of pitcher injury predictions, Jose Fernandez isn't the only member of the Marlins with problematic pitching mechanics. Henderson Alvarez and Jarred Cosart also have major problems.
About The Author
Chris O'Leary never played baseball beyond grade school due to a shoulder injury suffered due to poor pitching mechanics. As a result, he is focused on ensuring that what happened to him doesn't happen to anybody else. The Epidemic is one way he hopes to achieve that goal. Chris O'Leary has been predicting pitching injuries for years, and some of his more prominent predictions include...