Flipbooks are PDFs of some of the annotated clips I use when talking hitting and pitching. I started off making flipboooks of...
I've since created flipbooks of a number of other hitters, including...
Flipbooks let you see both movements and my explanation of what's happening in and between frames.
Chris O'Leary's Flipbooks
For best results when viewing my flipbook swing analysis, download them to your computer and then open them using Acrobat Reader.
I got my start analyzing hitters in 2006 with my analysis of Albert Pujols swing, which was followed by by my flipbook analysis of the clip below of Albert Pujols hitting a home run.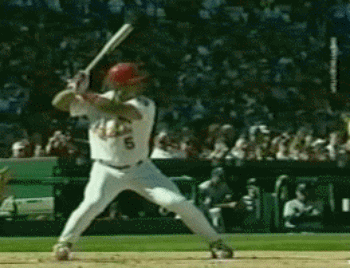 Albert Pujols 2005 Home Run
Pujols7.gif
This flipbook is the one that opened the eyes of Andres Torres to the fact that everything he (thought he) knew about hitting was wrong.
I have made it available for FREE...
This clip, and my analyses of it, lie at the heart of my Rotational Hitting 101 DVD.
Other Pujols Flipbooks
Living in St. Louis, I was able to watch Albert Pujols play and swing for 11 years. Starting in 2009, I brought a HD and then a high speed video camera to every Cardinals game I attended. As a result, I have a library of hundreds of clips of Albert Pujols' swing. I have flipbooked many of the best of those clips, including in my...
If you want to truly understand every aspect of Albert Pujols' swing, I have created a multi-clip analysis of Albert Pujols' swing, called The Secrets of Albert Pujols' Swing, a sample of which is below...
I have made an older versions of my hitting flipbooks available...
...as well as an analysis of Josh Donaldson's swing.
To celebrate his induction into the baseball Hall Of Fame, I have decided to make public my flipbook analysis of Ken Griffey Jr's swing.
MLB Client Flipbook Swing Analysis
I am often asked what I work on with my higher-level clients. This flipbook swing analysis is a start at answering that question...
One-Picture Hitting Clinic
For simplicity's sake, I am constantly trying to simplify my ideas and how I teach them. My newest project is a one-picture hitting clinic; the one picture I would build my presentation around if you limited me to just one.
Other Pitching Flipbooks
To get a sense of what my newer, HD and high speed pitching flipbooks look like, here is a sample...
Because I am such a fan of David Price's pitching mechanics, I have resurrected an older, labor-intensive, style of flipbook...
I have also made older versions of my newer pitching flipbooks available...