Dominant & Durable: David Price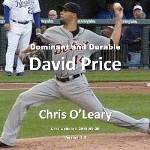 Dominant and Durable: David Price is an extremely detailed, nearly 600 page flipbook dissection of the pitching mechanics of David Price, the pitcher who I believe has the best pitching mechanics of any active major league pitcher.
I spent the Summer of 2015 driving around the midwest, filming David Price at 120fps, and studying his pitching mechanics from 4 different angles to make this flipbook.
Dominant and Durable: David Price comes in the form of a PDF and is available for just $46 on its own and is also available, for FREE, to clients who have purchased my power pitching bundles and hitting and pitching bundles.
I have made an early version of my David Price flipbook analysis available for people who want to get a general sense of how Dominant and Durable: David Price is put together.
Clients can view or download the latest version here.